Tomek Leś
E-Guitar, Effects
Luca Kézdy
Violin, Effects
Emil Gross
Drums, Electronics
The Trio is radical free improvising -> intense "in-moment-impro".
Basically working as a trio, but also collaborating with iternational artists, musicians, dancers, painters and poets, to explore new ways of interaction.

Luca Kézdy (HUN / Budapest)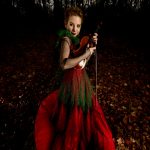 Luca Kézdy was born in Győr, northwest Hungary, where she started her classical violin studies at the age of six. Later she studied aesthetics and philosophy at the ELTE University's liberal arts department. She placed in the finals in the first national Jazz Violin Competition held by the Hungarian Radio in 2006, where she won the Audience Prize.  She has been playing with her band Santa Diver (violin-bass-drums) since 2006 and played at the most respected festivals and jazz clubs in Hungary, at many venues around Europe, and at the Chelsea Music Festival in New York. She is in more genres like jazz, free improvisation, pop and fusion. She works with several bands and musicians, and also gives solo and duo concerts as well, in 2016 she had a duo performance with Chris Potter in New York. She is best known for her unique and inventions, and anything but traditional playing style. Luca is an extraordinary talent with a very special musical approach and individual style. One of the most frequented employed violin players in Hungary. As a classical music trained artist, she combines her technical facilities with some other influences from jazz, European folk, blues, odd-metered Balkanian music and combines perfectly the sound of the acoustic violin with some added modern music effects from a multi-effect pedal.
In 2016, 2017, 2018 one of Hungary's most respected jazz magazine choosed Luca as "the violinist of the year". In 2019 she won the Performer's Price from Artisjus (Hungarian PRO).
links:
https://www.facebook.com/kezdy.luca

Emil Gross "El Milio the Stick" (GER / Berlin)

The young drummer is caught between experimental, rock, jazz, blues, free improvisation, rocksteady and world music. He works on numerous projects, currently from Berlin, where he also works as a teacher and studio musician.
As an avowed live musician, he has been on tour in Europe, USA & Morocco in recent years, with musicians such as Joe Fonda, Oliver Lake, Paul Rogers, Mike Kindred, Abdeljalil Kodssi, Michael Jeffry Stevens, Richard Palmer James or Anupriya Deotale.
For 10 years he was known mainly as a reggae/dub musician with the Roots Reggae band Naked Vibrations and as an organizer through the Heart Culture Festival, which he founded with the HeKuNa Association. For many years it has been an integral part of the internationally active cultural association Limmitationes, the 4 States Sessions and Free Forms Movement.
links:
https://emilgross.com
https://youtube.com/emilgross
https://soundcloud.com/emilgross

Tomek Leś (POL / Warsaw)

since 2004 professional guitarist who collaborated with different artists in various environments. He graduated as a master of arts the most famous Jazz Academy in Poland. Likes to improvise free but also, with his trio 100nka plays through diverse styles grounded in jazz and infuenced by the eminences of the genre. He often treats his instrument in uncommon way trying to fnd new dimension of the guitar's sound boosting that with manifold effects and techniques. He is a member of polish famous hip-hop band.
Also played with: Herb Robertson, Viktor Tóth, Ágoston Béla, Antoni Gralak, Mikołaj Trzaska and many others.